Again Wsus doesnt work on w10 pro.

Posted:
14.05.2018, 01:04
Hi! i wait 5 hours downloading packages and updates etc (6,52gb)
and cant install..... the same error again.
nothing to do" or never install runtimes or dotnetfx...
can any help me again?
this windows 10 pro is from 2017.... one of the first releases. LMAO..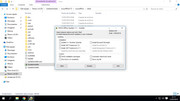 Regards!